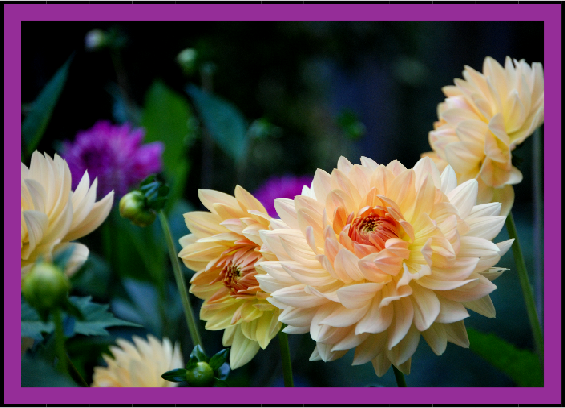 But without faith it is impossible to please him: for he that cometh to God must believe that he is, and that he is a rewarder of them that diligently seek him.
Hebrews 11:6
Are you asking God to touch your life and circumstances but not really expecting to see Him move at all? Our faith is what moves God. If you pray and ask God to move but you never really expect Him to do so, you are praying and asking in unbelief. In so many ways, what we believe is a choice of our will. You can choose to believe.
What do you expect God to do for you?
Choose to speak according to your faith to receive what you believe. Your words have power. 1 Corinthians 3:16 states that "You are the temple of the Living God." Jesus and God's Word are given to us to provide us with authority. As God framed this world with words, saying, "Let it be," and it was, so are you made in His image. When you speak forth the word of God, you empower God to move. When you speak the negatives and what can be seen in the natural–leaving God and the promises of His Word out–you stop the hand of God. There are some things God simply cannot do unless we pray and ask Him to do them.
In Psalm 103:20 it is written that the "angels hearken to the voice of His word." When we speak in agreement with the Word of God, the angels are listening to put in place what you are believing when it is according to the Word of God. For instance, you can speak the Word of God over your circumstances. Find a promise in God's Word that meets your need.
If fear is trying to take hold of someone because of what appears to be coming on this earth, one can appropriate 2 Timothy 1:7. A person can proclaim, "God has not given me a spirit of fear, but a spirit of power, and of love, and of a sound mind." In that way, one is not speaking the negative but reinforcing his or her own mind with the truth of the Word of God. This allows one to reinforce God in his or her life instead of fear–thus building up one's self and giving God a place to move.
When people speak negatives and agree with what their enemy is trying to do, angels have to back off from bringing blessings because people are using their God-given authority to speak damnation. They could, rather, speak God's blessing and His promises into the situation.
Don't just expect that people who pray for five minutes while correctly lining up on the Word of God will get their prayers answered if the rest of the time they speak negatively into the situation while getting into agreement with circumstances. Now if you are reading this and realize that you or others have spoken negative words into your situation, it's not too late. Praise God! We can even break the power of other people's negative words that have been spoken against us in Jesus's name.
We play until we win.
We can pray this: "In the name of Jesus, I pray to break the power of every negative word spoken in my life and situation. God, cause these negative words to be replaced with the truth and promises of You and Your Word. I submit to You, and I resist the devil. In Jesus's name, I resist every negative word regarding my life and situation."
Words are very important in God's Kingdom. God's Word will last forever.
It was such a blessing to me to learn that I have part in a covenant with the Almighty, Living God. My only part in that covenant was to receive it in the way that pleases God.
This covenant with the Living God was established between God and Jesus. Therefore, I can't mess up the covenant in any way by my actions—whether worthy or unworthy.
Jesus paid for all of the covenant. Jesus became everything that I was, so that I could partake of everything that belonged to both Him and the Father God. Jesus became sin for all mankind paying the price for all transgressions.
Even though I have done unworthy things in my past, I can't in any way mess up the covenant by having done any unworthy deeds. That covenant was put into place for me, but it is not dependent on anything I could do or not do to earn it. The covenant is, also, not dependent on anything I would do in the future since it was paid in full.
Through Jesus, God does not look at you while thinking you are too unworthy for Him. He sees you as someone He can help and He can reward. God sees you, through the blood of Jesus, perfected. I'm so glad that my relationship with the Father is not based upon my past but based upon what Jesus did on the cross in my behalf.
Make sure you get rid of the doubts of God's Word. Jesus did it all. It is because of Jesus that we can access the very throne room of Almighty God. It is because of Jesus that we can partake of the Heavenly Kingdom of God and expect God to move for us. Jesus is the One who made the way to our Father, God. Jesus paid the price for our redemption from sin so we could go boldly to the throne of grace and find grace to help in the time of need. See Hebrews 4:15-16 below.
You can't mess up the Covenant.
Now, if we sin, we do have to repent and get it under the cleansing power of the blood of Jesus. That blood is still cleansing sin today. We can't walk in willful sin and think that God will honor our requests. When we repent, we have every reason to be able to go to God and know that He will, indeed, reward us when we diligently seek Him. This is because the Bible says in Psalm 103:12 that, "As far as the east is from the west, so far has He (God) removed our transgressions (sins) from us." Praise God! Once we repent, God accepts that and does not remember our sin.
How can we know what the will of God is so we can pray according to His will? The Bible is the will of God. The Old Testament and the New Testament are statements of the will of God the Father. He divinely saw to it that His will and His promises to us were preserved in the Holy Bible. We don't have to wonder but can know without a shadow of doubt what His will really is. 1 John 5 above says we can have such confidence in the Father that, if we ask anything according to His will, what He declares in the Bible, He will hear us. And then, it states that, if we know He has heard us when we ask, we can be assured we have the petitions we desired of Him. In other words, we can be assured that He will reward us when we diligently seek Him. Glory be to God!
There are many promises in the Bible that reveal God's will for us. We can believe God for healing because the Bible states in 1 Peter 2:24 that "by the stripes of Jesus, ye were healed." If we do not have chapter and verse for something we would like from God, we can pray, "Father, if it be your will, bring it." We have to believe. The promises and the help of God do not automatically become a reality in our lives. God, at times, moves sovereignly and does the miraculous without our praying for something, but, also, He has called us in His Word to ask.
Know that as you ask God in prayer, He will hear you and respond to you. Do you believe this verse is true for you? If not, you can make a simple attitude adjustment and choose to believe God will do what His Word says that He will do.

Seeing then that we have a great high priest, that is passed into the heavens. Jesus the Son of God, let us hold fast our profession. For we have not an high priest which cannot be touched with the feeling of our infirmities; but was in all points tempted like as we are, yet without sin. Let us therefore come boldly unto the throne of grace, that we may obtain mercy, and find grace to help in time of need. Hebrews 4:15-16

And this is the confidence that we have in Him, that, if we ask anything according to His will, He heareth us: And if we know that He hears us whatsoever we ask, we know that we have the petitions that we desired of Him. 1 John 5:14-15

Ask, and it shall be given you; seek, and ye shall find; knock, and it shall be opened unto you: For everyone that asketh receiveth; and he that seeketh findeth; and to him that knocketh it shall be opened. Matthew 7:7-8
CHOOSE TO HAVE FAITH AND NOT DOUBT!

And all things, whatsoever ye shall ask in prayer, believing, ye shall receive. Matthew 21:22

And Jesus answering saith unto them. Have faith in God. For verily I say unto you, That whosoever shall say unto this mountain, Be thou removed, and be thou cast into the sea; and shall not doubt in his heart, but shall believe that those things which he saith shall come to pass; he shall have whatsoever he saith. Therefore I say unto you. What things soever ye desire, when ye pray, believe that ye receive them, and ye shall have them. And when ye stand praying, forgive, if ye have ought against any: that your Father also which is in Heaven may forgive your trespasses. But if ye do not forgive, neither will your Father which is in Heaven forgive your trespasses. Mark 11:22-25
CHOOSE TO SPEAK ACCORDING TO YOUR FAITH TO RECEIVE WHAT YOU BELIEVE.

While we look not at the things which are seen, but at the things which are not seen: for the things which are seen are temporal; but the things which are not seen are eternal. 2 Corinthians 4:18
This Scripture says that the things that are seen are temporal, which means subject to change, but the things of God are eternal and lasting forever. Temporal things are those things that you can see and know with the human senses of sight, sound, touch, taste, and smell.
To see God's hand move in your behalf and answers to prayer come to be in your life and circumstances, it is important to watch the words of your mouth and say what God says about you and your situation. The more you say what God's Word says about it, the more your spirit is built up in faith to believe you receive when you stand praying. In Romans 10:17, it is written that "faith comes by hearing and hearing by the Word of God." Faith comes by hearing. As you speak the Word over the situation in which you are believing God for an answer, take the opportunity to hear your conversation and build your faith.
God's promises do not just fall off the pages of the Bible and become a reality in our lives. We must believe His Word is truth for us and believe Him to move in our circumstances.
It is so exciting to spend quality time with Father God, Jesus, and the Holy Spirit while searching the Bible. Together with These, we get to discover all of the wonderful things God through His Son, Jesus, has put in place for us. Any time the Scriptures say "in Him", or "in Jesus" "by Jesus," or "by Him," or "through Him," look to see what belongs to you through Jesus, your precious Lord and Savior. Pray with purpose, and expect God to reward you greatly for the faith you have placed in Him and His Word.














This Scripture says that it is impossible to please God without faith. We are making choices every day on what we are choosing to believe. It comes down to us choosing to believe that God is. When I look at the world around us and see the glory that is created on the earth, it is very difficult for me to think that all of this happened by chance. I believe that God does exist and is the Creator of Heaven and earth. When I look at the human body, how intricately all of the different parts work and how we are formed, I cannot believe anything other than God does exist. But, the most telling thing to me is that, when I accepted Jesus as my Lord and Savior, God came and existed in me. He took out my stony heart and gave me a new heart. He came to dwell with me. I sensed Him in me.
I know He walks with me and talks to me. He is real to me. I have made the choice in my life to believe, and He has shown Himself real to me. I know, because I know, because I know, that He is real. I made that choice to believe, and God proved His Word and Himself true to me. Everything we decide to believe in life is simply a choice.
The next point the Hebrew Scripture makes is that we are to believe He, God, is the rewarder of them that diligently seek Him. Some people believe that God exists but have a difficult time believing that He will do anything for them. Many things come into play with this attitude. A lot of people don't think they are good enough, or worthy enough, for God to listen to them and do good things for them.

© Prayerline Ministries, Inc.
Site created by Diane Kilde